Despite the fact that technological advancements are progressing at a rapid pace, the developers continue to have some loose screws that they are attempting to tighten.
Even if you've been using smartphones for a long time, there's a lot you don't know about them.
Apps on your phone can be both legitimate and malicious, just as there are good and bad ways to use a phone.
As it is not compulsory for a car driver to be a mechanic, it is also not mandatory that every consumer know what type of app they are using and if there is any hidden app installed on their phone.
However, there are two common ways to find out if someone is trying to keep an eye on you.
The first way is to make a random or time-to-time physical check on your mobile. And the second is to install a spy app on your mobile without you knowing.
In this article, we will discuss spy apps and how they have become the norm over the years, and how to find and remove a spy app from your phone. So, let's get started without further ado.
What is phone spyware?
Spy applications are software programs that allow the monitoring and recording of all your activities hideously without even letting you know.
Monitoring apps are usually used by parents who wish to track their kid's activities in order to find out if they are dealing with some problems, like being bullied by someone at school.
There are other uses for mobile monitoring apps, as someone can use them to find out the log-in and password of your confidential accounts, like your banking app.
Xnspy is one of the popular examples of spy apps, as they are loaded with features that make them your ears behind the walls and your eyes when you are not around.
Well, the process of spying started with the arrival of Java-based OS in the market. Sony and Symbian are some of the prominent examples of it.
However, in the early days, mobile hacking started through Bluetooth. They used to attach both devices via Bluetooth and read all the stored data on the other devices.
For the time being, the operating system has grown in power and has attained a smart security system, such as 2FA, to ensure the safety of consumers' personal information.
Therefore, the way of monitoring has also changed, and monitoring apps have replaced the Bluetooth way of spying, and they are more sophisticated than you might think.
Xnspy is one of several popular monitoring apps that someone might use to spy on your phone.
Others can be added to be masked as something you would naturally use, like countdown apps.
Before getting straight to its elimination procedure, you should better understand how it works and how it can help someone track your activities.
What is Xnspy?
Xnspy spy app for Android in India is a legitimate monitoring app with a plethora of monitoring features that allow tracking of the target device user's online activities.
This spy app can be installed on Android and iOS devices without the need for rooting and jailbreaking.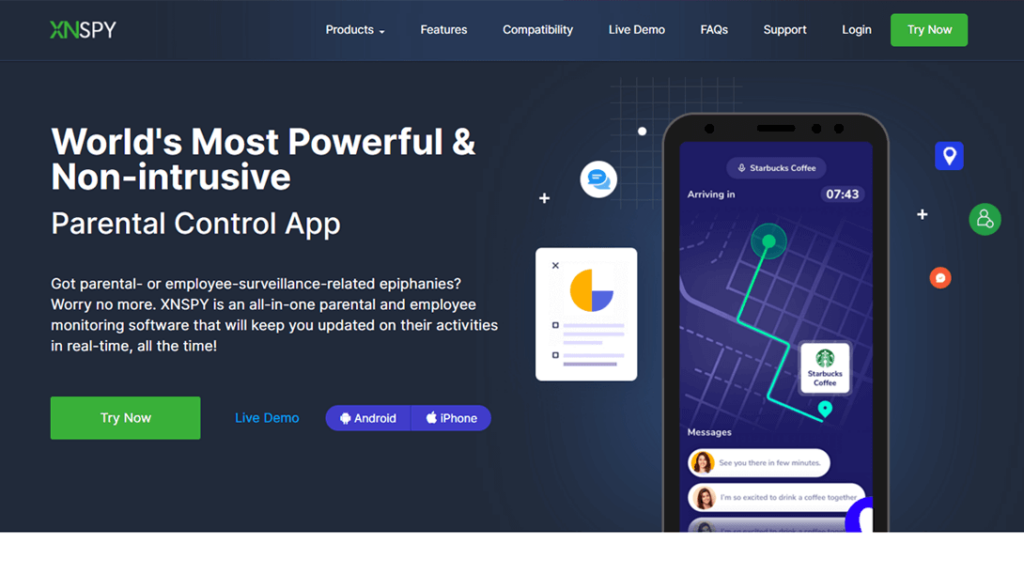 It lets you do a lot, like recording calls and surroundings, monitoring keystrokes, viewing pictures and videos, monitoring location details, and viewing instant messenger chats from WhatsApp, Skype, Viber, LINE, Kik, and Tinder.
Moreover, the spy app works hideously, and it is difficult for a novice to find out if someone has hidden this spy app on your phone.
The spy app works in real-time and records whatever you are doing on your mobile. Whether you are using instant messaging apps or browsing on the internet, Xnspy keeps its records on an online portal called the Dashboard.
This dashboard displays everything on your phone, including contacts, call logs, and text messages, along with the time and date.
And what makes this spy app more distressing is its stealth mode. You won't even notice that you are being recorded or that someone is monitoring your activities.
Luckily, we have come up with a solution to find out if Xnspy is on your phone and how to remove it.
How to Find the Xnspy Spying App on Your Phone?
It is hard to find this cell phone tracker app for Android and iOS on your phone, but not impossible. Here's what you need to do:
iOS Devices:
It is difficult to install a spying app on an iOS device without jailbreaking it unless a zero-day exploit is used.
Therefore, the use of Cydia is another way to install malware on your device. Cydia is a software installer package that allows you to install spying apps by making unauthorized alterations on a jailbroken iOS device.
There are a few more things you need to notice to figure out if you are being monitored.
Unexpected and frequent battery drainage.
Your device is overheating more than usual.
Strange and unidentified apps.
Strange and unexpected behavior of the device operating system.
However, sometimes it is still hard to find a spying app even after noticing the above-mentioned identification methods.
In that case, you would need to give a mobile verification toolkit a try to scan for spyware on your iOS device.
Android Devices:
Android devices are more vulnerable and it is easier to install malware. Because, except for the authorized app stores, Android devices can also install apps from unofficial stores.
Sometimes, the device needs to be rooted to install such apps, and works as a gateway for malicious apps to get into your phone and access your information.
To check if such an app is on your Android device:
Go to Settings > Security > Allow unknown sources. The process must vary depending on the vendor and manufacturer.
Go to Apps > Menu > Special Access > Install unknown apps to find anything unfamiliar and strange.
However, some spying apps use generic names and icons to resemble authentic apps, so that you cannot detect them easily.
If you find spy apps that you are not familiar with and do not remember downloading, make a quick check to see if the spy app is legitimate or if there is hidden spyware on your phone.
How Can I Remove Xnspy from My Phone?
Below are some of the methods to remove the Xnspy spy app for Android in India from your phone.
1. Run anti-spyware on your phone
There are various anti-spyware available. These are the software designed to detect and eradicate spyware from your phone.
You can pick one with the best user reviews and download it from the official App Store and Play Store. Avast, Kaspersky, and Malwarebytes are some of the most prominent names in the field of mobile apps and antivirus scanners.
2. 2FA (Two-Factor Authentication)
Although 2FA is not software, it is a security check that allows you to make sure that you are logging into your accounts safely.
Whenever you try to log into your account, a message will be sent to you via text or email containing a code. You can only log in after entering the same authorized code sent to you via email.
If you receive 2FA via message when you are not using your account, understand that someone else is trying to log in instead of you.
3. Change your account passwords
If you suspect that someone else knows your account passwords, change them immediately. Although 2FA is a strong step and hard to break.
if someone has physical access to your phone, they can easily log in through your accounts and know all of your passwords, including your banking app passwords.
4. Update your phone's operating system
Make sure you are always on the updated version of your OS. If you do not update your phone, it will still keep using the old privacy policies, which have become vulnerable and quite easy to pass through.
5. Physically protecting your phone
Trust is paramount in a relationship, but too much trust can sometimes cause you problems. Do not give anyone your phone until you are completely confident in them.
Always keep your mobile by your side and try not to enter your email and password in front of anyone, especially when you are logging in on your banking apps.
6. Factory reset your phone
The last option is to factory reset your phone. If none of the above options work for you, just wipe out everything from your phone.
However, you can make a backup of important data that you remember saving with your own hands. Remove everything but your confidential data to eradicate spying apps from your phone.
However, the use of monitoring or spy apps is not to humiliate someone or to destroy anyone's image purposefully, but to make sure they are safe and doing great.
So, if you want to monitor your loved one's activities to ensure their safety, you should learn how to install a mobile tracker.
But some people use these spy apps to steal your credentials in order to get their hands on your personal information.
You can follow the above methods to keep yourself safe from getting monitored by such bad actors. If you have any further queries, feel free to leave a comment in the section below.