It's a parent's responsibility to keep their children safe by using parental control apps, no matter where they are, and especially when they are away from them.
Luckily, there are many ways to keep your children safe online. If you want to keep track of your child's web activities in this digital age, you should use the best free Parental Control app for Android.
There are so many ways kids can get in trouble with their mobile phones (or tablets), either intentionally or accidentally.
Maybe they are wasting too much time staring at screens every day or using age-inappropriate websites and apps. In any circumstances, parental monitoring apps can help you control and spy on their Android devices.
It would be best to have an open and ongoing conversation regarding the importance of responsible technology usage.
If you're not sure how to get started, check out our article on Best Android Apps For Monitoring Your Child's Online Activities.
Note about Android vs. iOS device tracking.
Apple has some severe guidelines regarding text monitoring and call tracking. Due to this limitation, parental control apps cannot provide the same functionality across all platforms and devices.
Whether your kid uses an iPad or an iPhone, pay close attention to the iOS functions of each device.
How can I monitor my child's phone without them knowing?
A Parental monitoring app permits you to control and manage child online lives in various ways.
Typical features of the parental controls app include location tracking, social media tracking, multimedia tracking, text message tracking, and web filtering.
Please consider that some of the devices we recommend are mobile-only solutions, which means they cannot track your child's actions on Macs or PCs.
The majority of parental control systems operate similarly. Install a monitoring app on each device you want to monitor and manage settings and limitations from a web desktop or a parent-focused mobile app.
5 Free Android Apps to Monitor Your Kids' Smartphones Activities
1. MobileSpy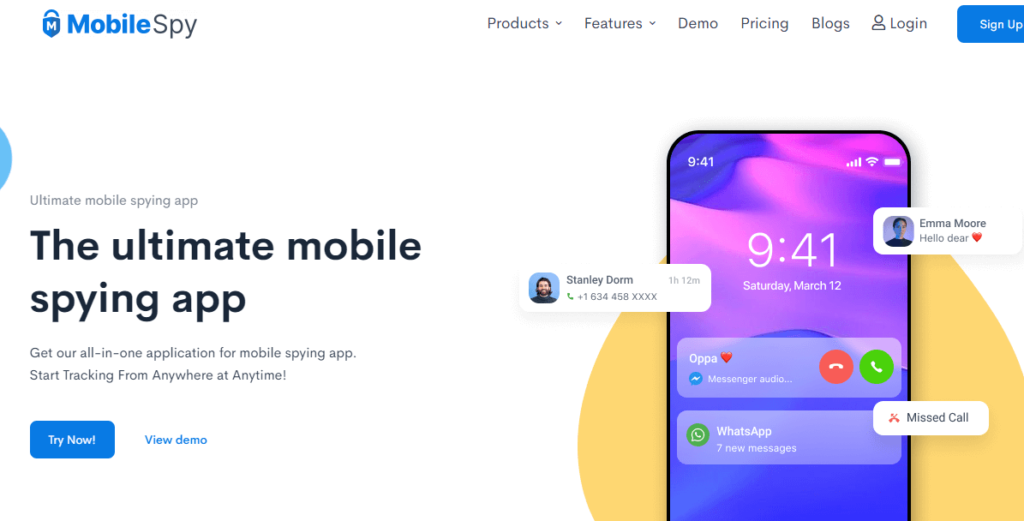 MobileSpy.io is a feature-enriched Parental monitoring app that allows lets us track various digital activities of a target device.
The MobileSpy Android spy app is a comprehensive spy app with many functions that work across a wide variety of Android devices.
Use it if you wish to discover what your children are doing on their Android phones or tablets and to have full control over them, MobileSpy.io permits you to track their Android devices.
Some of the exciting features of MobileSpy are given below:
Social Media Tracking – MobileSpy features allow you to keep track of social media activity remotely and ensure your kids are not exposing themselves to online threats.
Phone activity – Track entire phone activities like SMS, call, contacts, and Simcard information.
Browser history tracking – Tracking kids' web surfing history provides you with a detailed picture of what websites they visited and for how long.
Location Tracking – With the geo-fence feature, you can track a remote device's GPS history and location and receive alerts when it moves. Monitoring location ensures the safety and security of your kids.
2. Famisafe
The parental control application helps you safely manage how your children use their smartphones. Famisafe provides the most comprehensive feature sets on the market for tracking your child's web behavior.
If you're looking for an excellent way to encourage your kids to use their smartphones responsibly, this option has many features that you may like.
Some of the exciting features of Famisafe are given below.
Report on activity – A timeline gives you a glimpse of your child's activity each day. This lets you know what applications they recently used and for what purpose.
Tracking Your Location – Locate your child on a map so you can know where they are at all times time. You may also use the Location History Feature to see where they've been.
Application Blocker – Some applications might not be safe for your kids, and Famisafe blocks those apps from being installed.
Website Filtering – You can set restrictions in FamiSafe if you don't want your children to browse particular websites or categories of websites.
3. Qustodio
Qustodio is a parental control program that assists parents to regulate and supervise their children's online activities.
Qustodio is intended to protect your child and assist them in making wise online decisions. It accomplishes this by providing parents with simple tools to manage how their children use their devices.
The Qustodio app features a simplistic family portal dashboard with concise information about your child's internet activity.
Some of the exciting features of Qustodio are given below.
Filter contents and apps – Qustodio blocks inappropriate applications, games, and websites.
Set the limits – It establishes uniform time limits and display intervals to assist your youngster in avoiding screen addiction, improving sleep patterns, and maintaining family time.
Reports, alerts, and SOS – Receive detailed reports on your child's online activities every day, every week, and every month delivered directly to your inbox. Alerts notify you when they attempt to access a restricted website or are in trouble.
Track calls and SMS – Tracking children's calls and SMS messages allow you to catch predators and cyberbullies as soon as they attack.
4. Kaspersky Safe Kids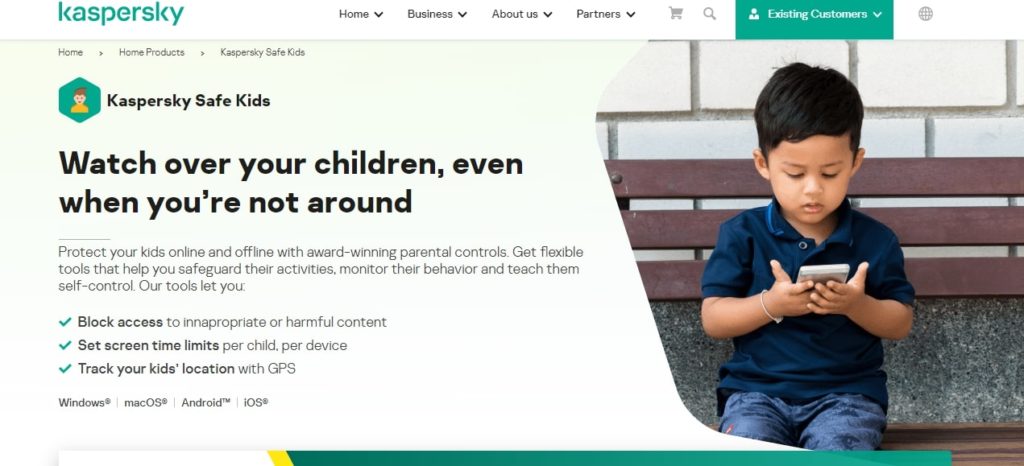 Kaspersky is a fully-featured, low-cost parental monitoring system available for mobile and desktop devices. 
With an affordable price of around $15, you can safeguard up to 500 devices with Kaspersky's subscription plan features.
Just like Qustodio, Kaspersky lets you screen your children's exercise, and many parental control applications work best on mobile or desktop interfaces. However, Kaspersky Safe Kids works well on Android, iOS, Macs, and PCs.
Some of the exciting features of Kaspersky Safe Kids are given below.
Screen time controls – Manage your children's screen time by day and per device to meet their schedule and your parenting style.
Websites and Apps filter – Block adult content and create a list of websites and apps that your child can only visit if you permit them.
Location Tracking – You can follow your children wherever they go using Kaspersky Safe Kids.
Youtube Safe Search – You can view your kid's Youtube search history and stop them from getting into inappropriate content.
5. Boomerang
It is best for small kids who have just got their phones and learning how to use them. Boomerang is an excellent parental control tool for both Ios and android apps.
That allows parents to monitor their children's web activity and other social media platform behavior. It's only for mobile devices. As a result, it cannot be used to monitor Macs or PCs.
Some of the exciting features of Boomerang are given below.
Monitor youtube activity.
Text message monitoring.
Allocate time limit on kids' android devices.
Contact and call tracking.
Location tracking.
Parental Control apps Prices Comparision
Conclusion
The internet is an essential component of modern life. Limiting your child is practically hard, especially for teenagers eager to learn new things.
Even while it is a wonderful method for your children to discover something new, we all know that every coin has two sides, and some things are improper for their age.
We must protect our children from online hazards and dangers while surfing the internet. As a result, consider using the best Android apps for monitoring your child's online activities listed above.
Every application offers excellent service, but MobileSpy.io is a top choice for parental control because it provides the most comprehensive monitoring services.