Torrent Search Engines is the best way to find any BitTorrent content on the internet. The Torrent search Engine works Similar to other search engines such as Yahoo or Google.
A torrent search engine provides search results but from BitTorrent websites only. They are used to cover a wide range of torrent websites in order to download the torrent files and magnet links by the user.
If you have been living close to the torrent ecosystem, you might realize that there exist tons of torrent sites where you can search torrent files. There are hundreds of choices available on the Internet to download torrents.
Visiting torrent sites to search torrents is very much time taking. When authorities took down The Pirate Bay and KickAss torrents, a new term evolved in the torrent industry as the torrent search engines.
Public vs Private Torrent Search Engine Sites
This article lists a public Torrent Search Engine, which does not require registration.
There are many private torrent search Engine sites and it would be impossible to fairly rank them here as one would have to be a member to fully evaluate.
Many people prefer private Torrent Search Engine sites for privacy (only members active on torrent), clean torrents, and speed (ratio enforcement ensures a well-seeded torrent).
The downside of these Torrent Search Engine sites is that there are rules and regulations and sometimes overzealous administrators.
Disclaimer:

Zerosuniverse is publishing this list just for educational purposes. We do not support the use of any website to download copyrighted content. We also encourage new BitTorrent users to explore the basics of P2P file sharing, its advantages, and the local laws related to the same.
Is The Torrent Search Engine blocked?
Some of these torrent search engines may be down for you or may not be accessible from your location or countries may be facing an ISP-level ban. In such cases, users are suggested to use a VPN (a virtual private network).
First of all, we all must be familiar with the fact that due to anti-piracy groups, torrent websites disappear over time and you might need to keep looking for new torrent sites and search engines again and again.
You can even use proxy sites to unblock torrent websites.
Also Read:
20 Best Free Torrent Search Engines Sites
1. Torrentz2
As its name implies, this is the second version of the original Torrent search engine named Torrentz. Despite changing the name and the Web address, the new version quickly managed to surpass its predecessor.
Right now, The Torrent Search Engine is indexing more than 61 million torrent files. Needless to say, this is the most powerful Torrent search engine for torrents that you can currently find.
Aside from searching for specific names and titles, there is another handy feature.
The homepage of the website offers a glimpse into the most popular and verified torrents. It includes categories such as movies, software, TV shows, music, and more.
2. Torrents.me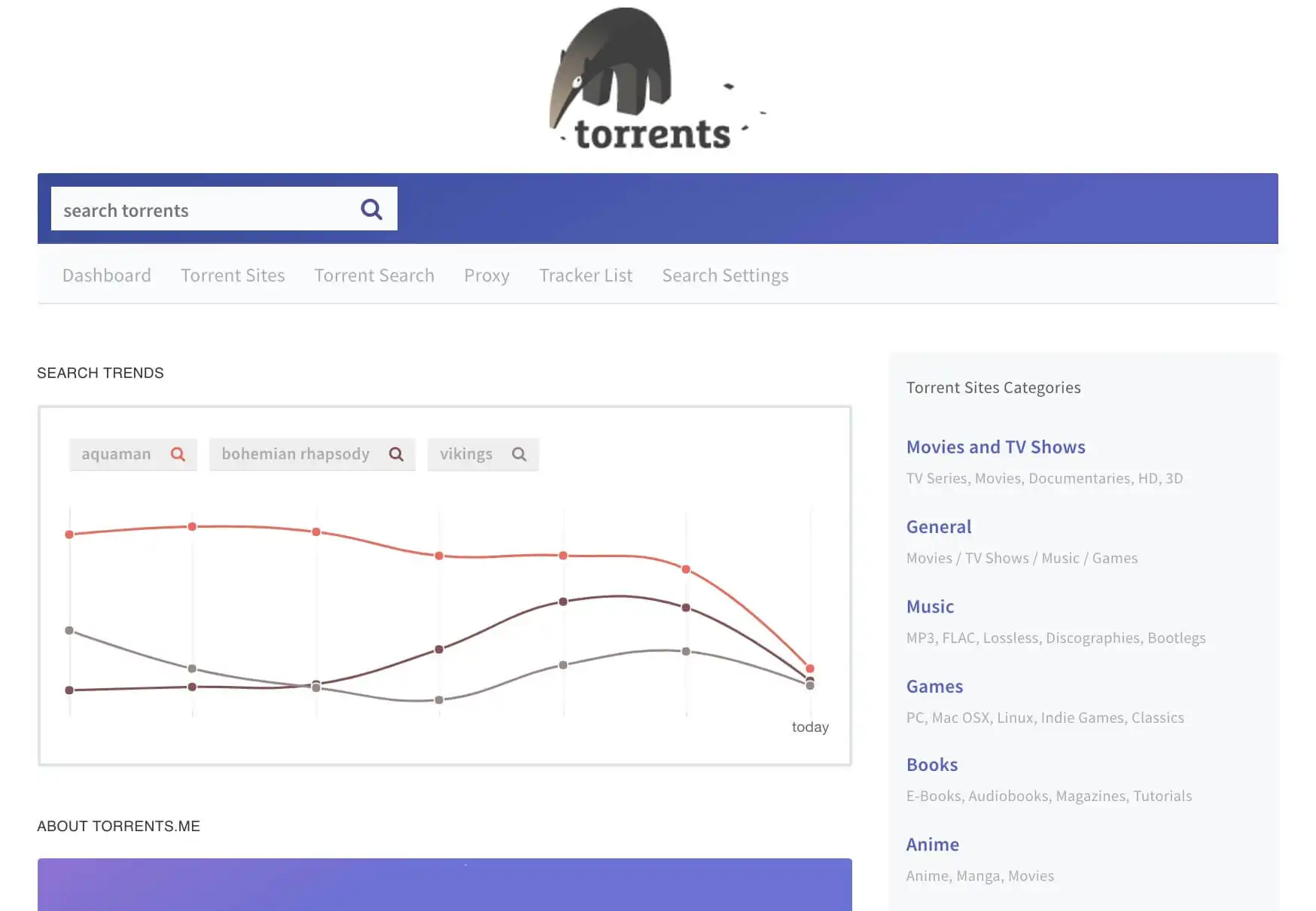 This popular meta torrent search engine site is very different from any other BitTorrent-related site you'll see.
While the Torrent Search Engine homepages feature extensive lists of torrents, Torrents.me displays search trends for popular queries.
These Torrent Search Engine trends keep changing frequently and provide a good idea of what's hot and what BitTorrent users are looking for.
As you scroll down, you can find torrent sites divided into different categories. The UI is neat and clean, and you won't see any annoying ads popping out of nowhere.
Using the search button at the top left, you can search for the torrent you like and get a relevant BitTorrent downloads. You also have the option to sort the results by date and relevance.
3. Torrents.io
Whenever you visit any torrent search engine, you are likely to see a very simple design on them. But if you want something more advanced then you will be glad to hear about Torrents.me.
This is an amazingly designed search engine or website, which not only lets you search across millions of torrent files. But also allows you to do more.
For instance, if you scroll down on the homepage, you will find a lot of useful information there.
Such as there is a whole range of categories and subcategories, which lets you search for a particular term more precisely. For a better experience, we advise you to try it by yourself.
4. Toorgle

Toorgle is using the Application Programming Interfaces of Google – the search giant to look for torrents on more than 450 different websites.
So far, the Torrent Search Engine index contains a website more than any other torrent search engine. Toorgle also works fine in speed and stability because it fetches its data from Google directly.
The Torrent Search Engine also provides the facility to add its toolbar in the firefox browser and Facebook application.
The later is not recommended due to trust issues. You should never attach your social media account to such websites.
Toorgle uses advertisements to generate revenue so it is advised never to disable your ad-blockers. To avoid identity theft, don't forget to use VPNs as well.
5. TorrentSeeker
TorrentSeeker is also a robust torrent search engine that uses custom Google Search to scrape torrents from over 100 torrent sites.
The Torrent Search Engine site also claims to update its database on a regular basis with popular torrents, the latest proxy sites, and niche and language-specific sources as well.
The Torrent Search Engine site is simple to use interface that makes the torrent search process easier than ever. However, the great look and feel are only limited to the homepage. The results page isn't that pleasing.
Anyway, it does what it does, its job of finding the torrents users want. You can also sort the results on the basis of relevance and date.
6. iDope
One thing is sure – our list of the best torrent search engines wouldn't be complete without iDope.
This Torrent Search Engine website has been online since 2016, and it managed to attract a huge number of daily active users. At the moment, over 18 million of P2P files can be found here.
Despite its popularity, iDope Torrent Search Engine isn't blocked and should be accessible from any corner of the world.
The Torrent Search Engine comes with a really simple UI design that's also accessible via mobile devices. So, in case you like to download movies on your smartphone, you're going to love what you'll find here. We highly recommend checking it out!
7. Veoble
Looking very similar to the Google search bar, the website Veoble follows a different approach than other best torrent search engines.
This black-colored Torrent Search Engine website is gaining popularity at a very fast pace. The Torrent Search Engine has the options for both image and torrent search, which provides it an edge over the other torrent search engines.
The biggest strength of this torrent search engine is that it provides you with very helpful ways to filter the search results. Yes, it's true.
You can include or exclude different torrent websites or even filter it on the basis of languages. At last, you can also look over the most relevant sites or the newest ones.
Maybe this is the reason why this Torrent Search Engine website is gaining so much popularity. Worth considering it though.
8. Xtorx
Xtorx torrent search engine is a bit of an unknown in the torrenting world. And we do not know why that is the case since it is good enough.
Our research shows that the Torrent Search Engine site has a very clean interface. Not only that but thankfully, the site does not make use of intrusive advertisements.
Literally. You will not see any advertisements that bother you on any page on the website.
All that you have to bear with is a logo for xtorx. There is a search bar on the home page of this Torrent Search Engine along with two or three sharing buttons.
And that is how it should be. We should add though that just because the Torrent Search Engine website has a clean and minimalistic user interface doesn't mean that it doesn't offer good torrents or other advanced options that some other torrent search engines offer.
In contrast to the simplicity of its user interface, the torrent search engine is itself very complex and powerful. With that said, we will mention though that Xtorx is missing a very important feature in the form of filters.
More specifically, there are no filters. If you can ignore the fact that Xtorx does not offer any filtering options then this is one of the most capable torrent search engines after Torrentz.
9. Snowfl
Just like other torrenting sites mentioned in this list, Snowfl.com is a torrent aggregator that goes through various public torrent indexes when you search for a query on this website.
What sets this Torrent Search Engine website apart from other sources is its minimal interface and night mode option to soothe your eyes.
There are very few elements and ads on the website, and the listing of the files from various torrent downloaders like Rarbg, Pirate Bay, etc., are mentioned in a simple list.
You just need to click on the blue links to download the torrent files safely in one go. There's also a .onion link to the website that ensures access even when you're browsing on the Tor network.
10. Solid Torrents
Solid Torrent Search Engine has already managed to attract a huge number of users. That's because Solid Torrents comes with on-point results, allows you to check vital info before downloading any torrent, and it gets the job done in no time.
We'd also like to highlight that Solid Torrents comes with a helpful tagging system, helping you discover related content quickly.
There's also a way for P2P users to mark torrents as problematic, helping this website serve only fully-working options.
11. BITCQ
Just like Snowfl, Bitcq is also a torrent downloader website that features a very clean and distraction-free interface.
It's a BitTorrent DHT search engine that makes use of the DHT protocol for searching nodes that take care of torrent distributing jobs.
Just like other websites on this list, Bitcq Torrent Search Engine also doesn't store any content on its website. It simply uses the metadata like names and sizes to list downloadable torrent files.
So, these were some of the websites for 2020 that don't host any torrents of their own, but they can act as search engines to find content from other torrent sites.
12. TorrentHounds
This is one of the most widely attacked Torrent Search Engine websites by law enforcement agencies around the world but is still resilient enough to sustain itself for more than a decade.
Since its launch, The Torrent Search Engine is providing its users with free movies, music, software, books, and much more to download.
Recently due to increased lawsuits and raids all around the world for similar communities and websites, TorrentHounds is shifting itself to the binary channels which is safer and less prone to the law regulating authorities.
Notice of shifting to the Binary channel is available on the top of the website which also helps you to configure it to keep using the website.
13. Zooqle
When you open the Zooqle Torrent Search Engine site, you will think that you're looking at a media streaming website.
There is a search bar in the top-left corner but the rest of the screen real estate is reserved for images and artwork.
Zooqle Torrent Search Engine showcases the most popular categories on the front page, where you can see popular movies, TV shows, music, and similar. Clicking on any of these images will bring a deep overview of the title.
If you click on a TV show title, for example, you'll see why Zooqle is so special. At the moment, you will get to pick a season and episode and therefore narrow down your search.
Then, you can browse different torrents and download files using your favorite torrent client.
14. AIO Search
When talking about user experience, there is absolutely no competition of this Torrent Search Engine site.
Once you are in you will see a lot of tutorials on how to use it. Which is a very nice feature for the first-timers.
Aside from the Torrent Search Engine site search bar you can also include or exclude the torrents you want in your search results. It's a fairly fast website where it takes almost a second to showcase the relevant results.
The Torrent Search Engine site is also worth noting that AIO Search isn't only used when searching for torrents. You can also use it to search for images, videos, subtitles, and even streaming websites as well.
15. Limetorrents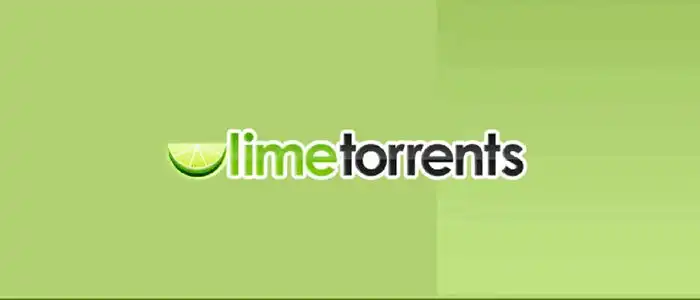 This torrent Torrent Search Engines help you to find the exact search result that you are searching for, hence, it is a fantastic torrent search engine for downloading experience.
Its Internal lists show the date added, seeder, size, leechers, and a health meter for the specific files.
The information page of this site also provides further information about the data.
Furthermore, users can also build an account that would be needed to upload different torrents, implement feedback, bookmark torrents, and swapping messages with other users and many more.
16. TorrentDownload.CH
TorrentDownload comes with a really simple UI and gets the job done in no time. You can use it just like you would any 'traditional' torrent website, and there's a prominent search bar at the top of the page.
No matter which way you go, you can be sure that you'll find millions of torrents here.
It should be also mentioned that TorrentDownload is a highly reputable website, being online for quite some time.
In addition, it heavily relies on websites such as Torrentz2, RARBG, and LimeTorrents – all of which are doing their best to bring verified torrents. All in all, it's easy to see why this is one of the best torrent search engines.
17. Torrentz.Colorask
We will be the first ones to admit that this torrent search engine's name is quite a mouthful. Our research shows that this is one of the more popular and reliable torrent Metasearch engines.
If you compare the design of this torrent search engine to what's out there in the market you will come to know that it is well done and possibly perfect for web browsing.
With that out of the way, we would like to mention Torrentz. Colorask has managed to index well over 500 different torrent websites.
If there is something you want to find and you cannot find it on any other torrent site then you need to search for it here on Torrentz.Colorask.
On the subject of finding good torrents, we should also mention that when you make use of this torrent search engine in order to search for a specific file and/or folder, pretty much all of the shown results which the service deems relevant to your search will pop-up right underneath your search.
You may not be able to tell it right now but trust us when we say that such a design choice is not only convenient, it is also smart.
18. Torrent Paradise
Next, on our list of torrent search engines, we have Torrent Paradise. It allows an easy way to dive into the torrenting world, using a very simple interface.
Once you open the page, you'll see a prominent search bar at the top. Input any term, and you'll get a list of results that you can filter by name, health, and size.
It's also worth noting that Torrent Paradise allows you to download torrents directly from this website. This means that you won't have to visit individual search results, saving you some time and effort.
19. Torrent project
Like Utorrent search engine sites, this torrent file metasearch engine displays gathered links from popular torrent hosting pages like Extratorrent.
It has a neat interface which makes it more convenient to use and around 8 million torrent files are indexed on this site.
You can use it as an alternative for sites like Kickass Torrents and Torrentz.eu. it also has the Torrents Time plugin along with an API that enables application integrated search functions.
Moreover, TorrentFreak (the news site) recommended allowing streaming for this site in the coming years.
20. TorrentZeta
We have talked about a torrent search engine called Torrentz2 previously in this article. As you know, that website is the second version of the original Torrentz, which sadly doesn't operate anymore.
However, there are numerous useful clones and TorrentZeta is one of those.
This one isn't just a copy-paste clone of the original. Instead, it changes things a bit. As you start to search for something, you will see real-time results.
Aside from several sponsored entries at the top, you'll find a nice selection of search results. Then, the website will take you to the torrent's source from where you can download the file.