Cybersecurity courses are the best way to start your profession in the cyber world. It is safe to say that cybersecurity is one of the most sought-after professions today.
Cybersecurity or information security (IT) refers to the practice or process of ensuring the integrity of different networks.
In a broad sense, this concept is all about protecting our data, apps, networks, or devices from cyber-attacks or unauthorized access.
As more sensitive information becomes available online and hackers become savvier, cyber-attacks become more widespread.
These attacks happen when cybercriminals with malicious intentions find security flaws in websites, and collect data that they shouldn't otherwise have access to.
The necessity of securing our networks is increasing day by day. Few people have that master skill to secure the networks.
With the increasing demand for cybersecurity specialists, we believe that one of the cybersecurity courses below will enhance your skill.
Careers in Cyber Security are the new success mantra. Jobs in Cyber Security are on a rise Globally. According to a report.
The increasing cyber-attacks and data protection laws are expected to create 1 million jobs and $35 billion in opportunities for India by 2025.
So, this could be an opportunity for individuals interested in cybersecurity as a career option.
Maybe you're considering a career in cybersecurity and are looking to get started. Online cybersecurity courses for beginners can help.
Whatever your reasons for wanting to delve deeper into the world of cybersecurity, there is sure to be an online course that's right for you.
Cybersecurity courses Teaching tools vary greatly in terms of accessibility, scope, suitability for various levels of competence, and of course, price.
These brilliant cybersecurity courses prove that it doesn't need to be expensive to become qualified in cybersecurity.
While you will ideally need to take a degree or other accredited cybersecurity courses in computer science, in which you can choose networking and security topics to suit your career path.
There are other options available that you can try in order to test the waters and see whether the industry really is for you.
After extensive research, our team of experts has compiled this list of Best cybersecurity courses, Training, and Tutorial available online for 2020.
These cybersecurity courses include both paid and free resources to help you learn IT, Internet, and Network Security.
Top 20 Best online cybersecurity courses
1. Certified Ethical Hacker (CEH)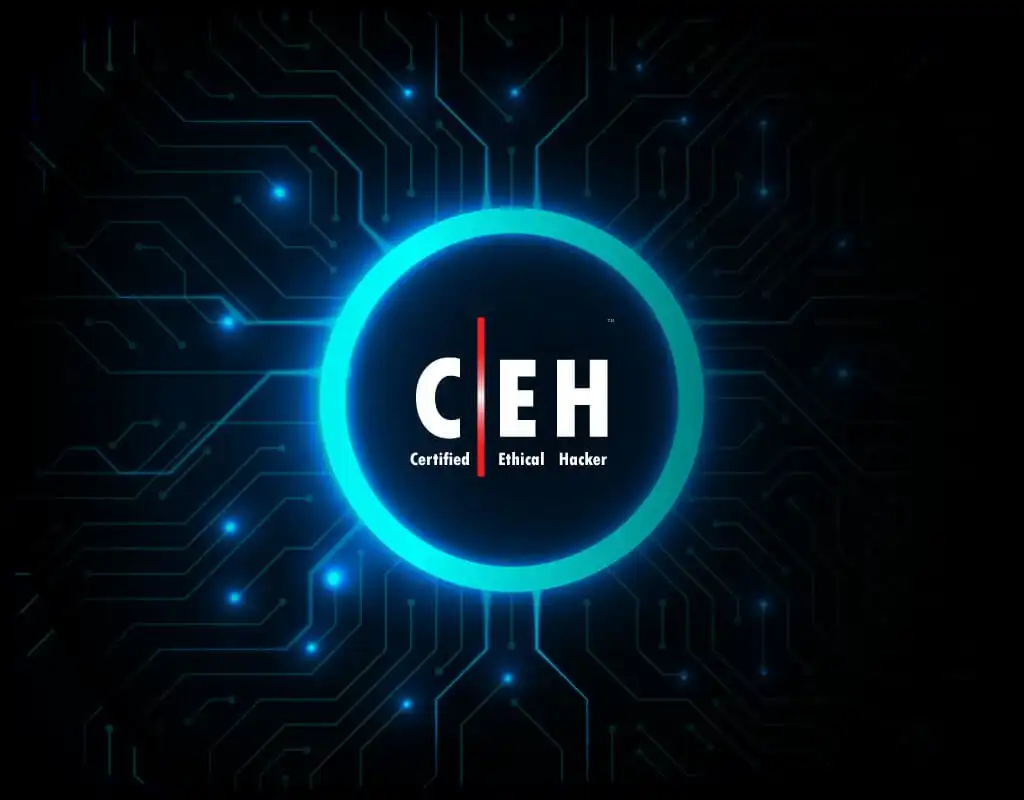 This is one of the most valuable cybersecurity courses nowadays. Is the only match for a highly-skilled hacker? Someone who is just as (if not more so) trained.
As a Certified Ethical Hacker (CEH), you learn to think just like a cybercriminal, which is essential to putting a stop to cyber attacks.
By enrolling in cybersecurity courses that teach the same techniques that cybercriminal masterminds have down pat, you'll be one step closer to becoming a Certified Ethical Hacker.
Prospective students can enroll in Simplilearn's CEH v10 Certification Course, where they can learn the skills required to become certified, such as reverse engineering and virus code writing.
For CEH training and certification, there are no specific eligibility criteria, but it is recommended that one should have basic knowledge of TCP/IP.
Once you're certified, you may qualify for a number of exciting roles, such as intrusion analyst, security manager, CND auditor, and more.
Generally, the annual salary for someone with this type of certification ranges from $24,760 to $111,502 USD, according to Infosec Institute.
While that is a very wide range, keep in mind that after you have some experience, it's unlikely that your salary will be on the lower end of the spectrum.
2. CompTIA Security+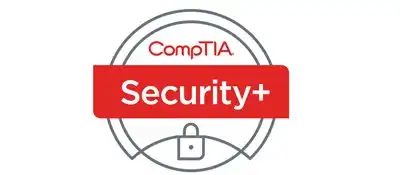 CompTIA Security+ is one of the most famous cybersecurity courses that is internationally recognized, vendor-neutral certification from CompTIA that demonstrates competency in the baseline skills needed for a career in the IT security industry.
The cybersecurity course establishes the core knowledge required for any cybersecurity role and provides a springboard to intermediate-level cybersecurity jobs.
Security+ incorporates best practices in hands-on troubleshooting to ensure security professionals have practical security problem-solving skills.
This cybersecurity Course Focuses on
Detect various types of compromise and understand penetration testing and vulnerability scanning concepts
Install, configure, and deploy network components while assessing and troubleshooting issues to support organizational security
Implement secure network architecture concepts and systems design
Install and configure identity and access services, as well as management controls
Implement and summarize risk management best practices and the business impact
Install and configure wireless security settings and implement public key infrastructure
3. Certified Information System Security Professional (CISSP)
If you're looking to break into the field of network security, the Certified Information System Security Professional (CISSP) is another famous cybersecurity course program to consider.
In fact, many IT departments classify this type of certification as a base requirement.
Simplilearn's CISSP Certification Training is aligned with the (ISC) CBK 2018 requirements. The cybersecurity course trains you in the industry's best practices, which can increase your chances of passing the exam on the first attempt.
The cybersecurity courses certification helps you develop expertise in defining the architecture and in the design, build, and maintenance of a secure business environment for your organization, all while using globally approved information security standards.
If you're looking to work as a system engineer, IT security manager, or analyst, this certification can help give you an edge over the competition.
If you're already working in this industry, this certification can help you grow in your career, which can mean a better role with a higher salary.
The cybersecurity course certification isn't for beginners, as it requires at least five years of professional full-time work experience in two or more of the eight domains of the CISSP – CBK 2018.
4. Certified Information Security Manager (CISM)
CISM is an advanced certification that provides validation for individuals who have demonstrated they possess the knowledge and experience required to develop and manage an enterprise information security program.
The cybersecurity course certification is intended for information security managers, aspiring managers, or IT consultants who support information security program management. It is accredited by ANSI under ISO/IEC 17024:2003.
To become certified, applicants must successfully pass a 200-question multiple-choice exam, which covers four content areas:
Information security management
Information risk management and compliance
Information security program development and management
Information security incident management
To qualify for the exam, applicants must have five years of verified experience in the infosec field, with a minimum of three years of infosec management experience in three or more of the CISM content areas.
Experience must be gained within a 10-year period preceding the application date or within five years from the date of passing the exam.
CISM certification holders must adhere to ISACA's Code of Professional Ethics, agree to comply with ISACA's continuing education policy, and satisfy work experience requirements.
To maintain CISM certification, individuals must sustain an adequate level of knowledge and proficiency in the field of information systems security management, complete 20 CPE hours annually, and follow ISACA's Code of Ethics.
5. Certified Information Systems Auditor (CISA)
The Certified Information Systems Auditor (CISA) certification is focused on information auditing.
With this type of certification, you show potential employers that you are not only skilled in the world of information technology, but that you also have significant audit experience.
By enrolling in a CISA program, you can learn the skills you need to perform an effective security audit within an organization.
This is often the first step in identifying any potential security issues, and companies find a lot of value in professionals who are trained to effectively accomplish this task.
In a CISA program, students gain expertise in the acquisition, development, testing, and implementation of information systems, as well as learn the guidelines, standards, and best practices for protecting them.
If you're seeking a high-level IS audit, control, or assurance role, you'll likely be required to earn this certification before qualifying.
To receive your CISA certification, your employers will need to verify all relevant experience.
The experience should have been gained within five years of passing your certification exam, or within the 10-year period before applying for the position.
The Infosec Institute reports that CISA-certified professionals earn approximately $52,459 to $122,326 USD on average each year.
6. The Complete Cybersecurity Course: Hackers Exposed!
For the beginner level, this course is the best one. This cybersecurity course covers all the fundamental cybersecurity training of the required skill set.
The learner will gain advanced practical skills in defeating all online threats with this course.
In the end, you will realize topics like darknets, phishing, encryption method, hacking infrastructures, and how important is this for being a security specialist.
This cybersecurity Course Focuses on
The learner will be able to defeat different cybersecurity threats like malware, hacker, ransomware, etc.
Analyzes the security infrastructure of popular operating systems like windows 7, windows 10, and macOS.
It helps you to take protection against scams, identity theft, SMShing, or threat from the darknet.
Teach you about underused security control of compartmentalization and isolation.
This is for anyone who simply wants to protect their own files, emails, personal information, social identity, etc. from online threats.
The learner will get cybersecurity certifications signed by the instructor of this course.
7. The Complete Cyber Security Course: Network Security! (Udemy)
If your dream is to become a cybersecurity specialist then this program will set you on the path to achieving that.
After the completion of these lessons, you will be able to discover security vulnerabilities across an entire network by using hacking techniques and vulnerability scanning.
Gain insight into the types of firewalls, wireless security, network monitoring, and more. After this, you will understand how corporations can track us online and learn how to mitigate the privacy issues of search engines and their associated services.
This cybersecurity Course Focuses on
Configure firewalls on all platforms and under all scenarios.
Understand how to use methods of authentication including passwords, soft tokens, and hard tokens.
Detailed guidance is provided to install the necessary software, and tools and set up the environment.
Live examples, assignments, and slides make the lessons interactive and fun.
Learn to configure and architect a small network for maximum physical and wireless security.
105 Lectures + Full lifetime access + 1 Article + 2 Downloadable Resources
Available at a nominal price on the e-learning platform Udemy.
8. Introduction to Cyber Attack
Following its name, the purpose of this course is to understand different cyber threats and vulnerabilities.
Description of different types of attacks in both software and network system can give you a precise notion of system vulnerabilities.
This cybersecurity course also provides an overview of threat asset matrices for risk analysis.
Throughout the course, the learner will analyze different cyber threats.
This cybersecurity Course Focuses on
This free cybersecurity training course consists of 45 videos along with quizzes and assignments which will take 18 hours to complete.
Includes an example of constructed cyber-attack which is applied to the real system.
The learner will get a clear idea about Distributed denial of service(DDOS) which is a common threat to the network systems.
This course also talks about cybersecurity risk analysis.
After completion, the learner will get shareable cybersecurity certifications.
9. Introduction to Cyber Security- Future Learn
The Introduction to Cyber Security offers a free taster to the subject and is accredited by the UK Government intelligence organization GCHQ, the global accreditation and examination institute APMG International, and The Institute of Information Security Professionals.
However, there are also a small number of accredited degrees available in IT and computer science including a master's degree in cybersecurity.
This cybersecurity Course Focuses on
Threat landscape: terminology, cybersecurity threats, keeping up to date
Authentication: access control, passwords, two-factor authentication
Malware: types of malware, attack vectors, preventing infection
Networking and communications: fundamentals, security challenges, standards
Cryptography: symmetric and asymmetric cryptography, applications
Network security: firewalls, virtual private networks, intrusion detection/prevention
When your defenses fail: cybersecurity laws, recovering from attacks
Managing security risks: risk analysis and management.
10. Cybersecurity Specialization – Coursera
Cybersecurity Specialization was created by the University of Maryland to bring the underlying concepts of the construction of secure systems directly to your web browser.
It consists of five courses in total, each of which can take several weeks to complete. These range from Usable Security to a Cybersecurity Capstone Project, so it's safe to say that they'll require you to already have some intermediate cybersecurity know-how under your belt.
There are also online degrees available in either computing and IT or data science, and like the Open University, although none are focused specifically on cybersecurity, you can be assured that cybersecurity will be a significant part of the curriculum.
This cybersecurity Course Focuses on
Usable Security
Software Security
Cryptography
Hardware Security
Cybersecurity Capstone Project
11. Learn the Fundamentals of Cybersecurity
Nowadays we all are connected to web platforms with different harmful issues. This course was developed by The SANS Institute based on the professional development curriculum.
This course teaches the core concepts needed to protect information security systems.
After completion of this online cybersecurity course, learners will get a solid foundation on cybersecurity before entering a professional career.
This cybersecurity Course Focuses on
This course describes Linux as guiding students through using a CentOS LiveCD in VMware Player.
It provides an overview of networking so that cyber specialists can secure the network from online threats.
This course also describes various protocols and attacks on each layer.
The system administration module of this course will provide tools to perform the common administrative function.
Examine web security using PHP language, GNU BASH, and Microsoft PowerShell scripting.
12. Cybersecurity Training for Business by University of Colorado (Coursera)
Data Breach is all around us, and it, therefore, becomes increasingly important to protect data.
The University of Colorado has put together this Cybersecurity for Business specialization to protect small and large businesses from cyber threats.
The course will help you demystify the practical aspects of computer security, identify the potential threats to your business and learn how to defend your data and system. The trainer of this program is Greg Williams
This cybersecurity Course Focuses on
Introduction to Cybersecurity for Business
Cyber Threats and Attack Vectors
Detecting and Mitigating Cyber Threats and Attacks
Proactive Computer Security.
13. Cybrary Introduction to IT and Cybersecurity
If you're debating a career in cybersecurity and thinking about which route to take, this course could be a good fit for you.
Designed to help you make a decision between the main areas of cybersecurity, it covers four of the primary disciplines in a modular format that spans just over four hours' worth of videos.
You'll learn about system administration, network engineering, incident response and forensics, and penetration testing.
Many Cybrary courses are free and if you like this course, there are plenty more to choose from. You can search their library based on course type and difficulty level.
All courses are presented in video format, so they are great for visual learners.
Note that once you're in, there's a fairly aggressive upsell to the Pro version of Cybrary which gives you access to additional courses and other perks such as career pathway guidance and a mentor.
This costs $99 per month, which is pricey, but there is a 7-day free trial to see if it's a good fit.
14. Software Security
Software security is a prime concern for various organizations. Different vulnerabilities like SQL injection, sessions,s and how to prevent those attacks are subject to discussion in this course.
The learner needs to have some programming knowledge to complete this course. This course also includes advanced testing and program analysis techniques.
This cybersecurity Course Focuses on
After completion of this course learner will gain some skills like penetration test, buffer overflow, fuzz testing, and more.
As the contents are rich, the duration of this course is 12 hours.
This cybersecurity course also provides cross-site scripting and cross-site request forgery with real-time examples.
Control flow integrity with secure coding makes this course more effective.
Shareable cybersecurity certifications after completion of the course.
15. The Complete Cyber Security Course: End Point Protection! Udemy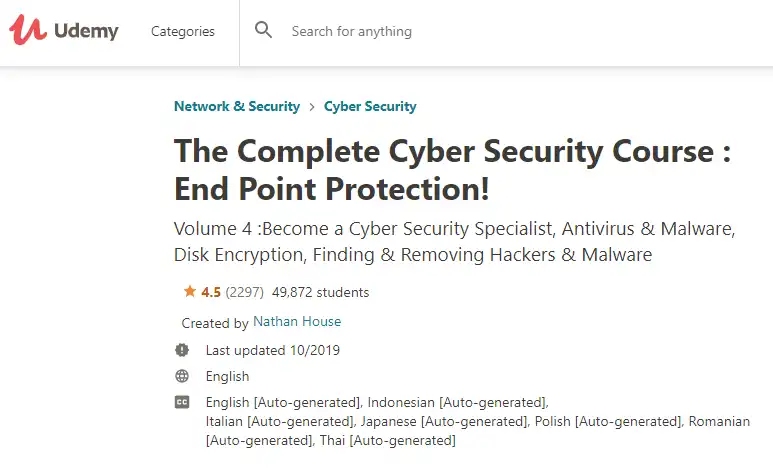 This certification covers the endpoint protection techniques on all the major operating systems.
Master the implementation of disk encryption technology, understand the next generation anti-virus solution, traditional approaches to these problems, and detect threats.
End the lectures with the crucial topics of email and messenger security and how to overcome the weaknesses and fully secure the communication.
With over 49,000 students and stellar ratings, it is safe to say that this certification is a crowd favorite.
This cybersecurity Course Focuses on
Cover all the diverse technologies offered by endpoint protection software.
Detect and monitor threats such as malware and hackers through deception and detection techniques.
Understand methods like application control, execution prevention, machine learning, and AI.
Explore the concepts in anti-forensics to securely delete data so that it is unrecoverable by even computer forensics experts.
Perform operating system hardening to decrease the attacker surfaces of your device to make them safer.
Get continuous and regular support and doubt clarification from the instructor.
176 Lectures + Full lifetime access + 1 Article
16. Cybersecurity: Managing Risk in the Information Age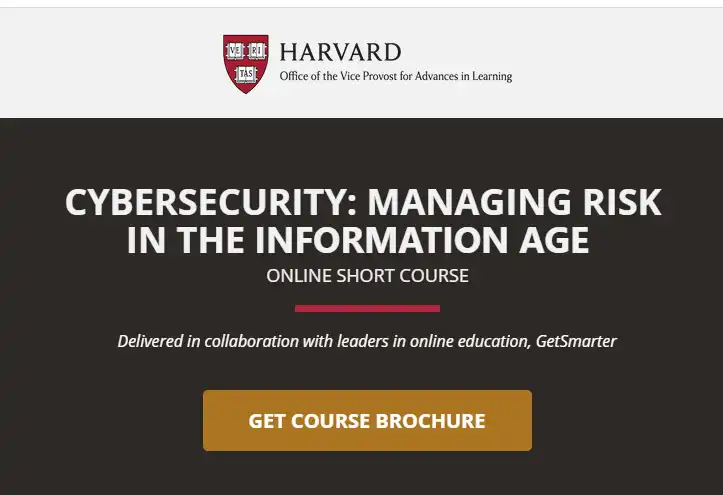 Harvard University built this course from the perspective of organizational approach and business.
This 8-week online course will give you the ability to draft, strategize and develop a cyber-risk mitigation strategy.
The learner will get an in-depth understanding of the different types of cyber-attacks and the organizational approach to cybersecurity.
This cybersecurity Course Focuses on
Teaches through a discussion forum which boosts students to share knowledge between them.
This cybersecurity online course consists of 8 modules including six noteworthy cases of security breaches.
Most of the discussion is about operational business risk, litigation risk, and reputational risk.
This course basically explores three types of actors, namely nation-states, cybercriminals, and international organizational threats.
Identification of internal assets and business-critical systems that need to be protected from cyber-attack. This course also explores the degree of risk in relation to an organization's systems, networks, and data.
The learner will gain cybersecurity certifications after completion of this course.
17. edX Essentials of Cybersecurity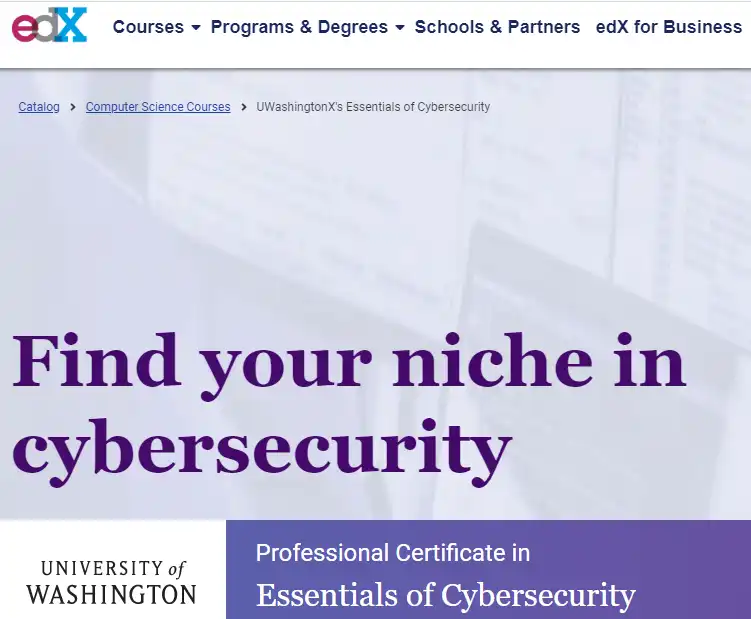 edX is a great resource for accredited university courses. These courses are designed by various universities themselves and come with verified certificates. However, they do come at a cost.
The Professional Certificate in Essentials of Cybersecurity is offered by the University of Washington (Washington) and costs $356.40.
The suggested duration for the whole program (which includes four introductory courses) is 2–5 hours per week for 16 weeks.
This cybersecurity Course Focuses on
Introduction to Cybersecurity: Answers questions about and provides literacy in the field of cybersecurity.
Cybersecurity: The CISO's View: Delves into cybersecurity operations and in particular what a Chief Information Security Officer (CISO) does within a company.
Building a Cybersecurity Toolkit: Teaches the skills needed to become a cybersecurity professional.
Finding Your Cybersecurity Career Path: Discusses the various career paths you could follow and helps you decide which is the right fit for you.
Each course separately costs $99 so you save around $40 by buying the bundle. As you can see, the flow of this program is tailored to someone who is thinking of pursuing a career in the cybersecurity field.
18. Introduction to Cloud Security with Microsoft Azure
Almost every organization is storing its information on the cloud platform. Security specialists on the cloud platform will increase more in the near future.
The learner will gain knowledge of fundamental cloud-based service technologies from this course.
This cybersecurity course also includes how to create a concentrated and integrated virtualized network inside Microsoft's Azure cloud computing system and make it secure.
This cybersecurity Course Focuses on
Build for IT managers, system administrators, cybersecurity specialists, and future cloud architects.
Well, description of each service model SaaS, PaaS, and IaaS.
A Microsoft Azure account is compulsory to complete this course.
This online security training covers both multi and single-tenancy solutions with their integrated security aspect.
Shearable cybersecurity certifications system via email.
19. Cyber Security Course from NYU (Coursera)
Dr. Edward G. Amoroso, Research Professor has designed this special certification for New York University(Tandon School of Engineering) where you will learn to develop a deeper understanding of modern information and system protection technology.
The specialization is divided into 4 courses with hopes to not just theoretically teach you but instill a lifelong passion for the subject so you keep learning and growing in the domain.
This is an ideal choice if you are looking for IT Security Certifications for Beginners.
This cybersecurity Course Focuses on
Learn about real-time Cyber Threat Detection and Mitigation
Get certified from NYU Tandon School of Engineering via Coursera
Online certification that you can learn at your own pace from anywhere in the world
20. Web Security Fundamentals
I recommend this course to everyone who uses the computer. This cybersecurity course focuses on basic web security rules with common cyber threat syndrome and how to prevent those.
You will understand how injection on both server-side and client-side can destroy your system. This course proposes the knowledge and skillset of building secure and smooth web applications.
This cybersecurity Course Focuses on
It provides an overview of the most common attacks and insights of threats that each web application face.
Familiarity with HTML, CSS, and Javascript will help the user to understand this course.
The learner will know, the dangers of an insecure communication channel and evolution facts of HTTP deployments on the systems.
Analyzes the security of the authentication process and the prevention of authentication bypasses.
A deeper understanding of SQL injection attacks and the implementation of various defenses.