Scaling up your business in the online world can be difficult, Of course, you can market your product by advertising, running campaigns on social media, but how long will it work to scale up your business without AI Tools?
Social media campaigns are great, but not sustainable in the long run. In the digital world, everything depends upon effective marketing.
Come up with a genius product but market it poorly – your business suffers.
Also, you know that many technical things need to be looked at when you want to run your online business effectively.
That's the sole reason why Artificial Intelligence (AI) and machine learning is implemented in the digital era of business.
They increase efficiency and optimize the user experience for everyone.
But there are a few AI tools that can optimize not only the user interface, but also your company.
You can use these AI tools and machine learning for scaling up your business from zero to one real quick.
Some of them are free AI tools and learning machines (with paid plans for additional features), while some are paid but promise to deliver the performance.
Let's see the 10 best AI tools that you can use to optimize and grow your business online.
1. InVideo
InVideo is an excellent AI-based online video editor software designed for anyone looking to make awesome videos in just a few minutes. It's a quick, easy, and affordable online tool that you can use for free. InVideo offers a free plan with access to all the editing features.
On the free plan, you can create and export up to 60 videos every month with the help of exceptional AI-based features available.
InVideo comes with an extensive library of over 2,000 easy-to-use templates. Users can also add a voice-over or simply use the tool's built-in text-to-speech technology to create incredible videos.
2. Market Muse
Market Muse is a powerful content optimization tool that lets you create high-quality content.
This AI tool is extremely useful if your business involves sharing blog content posts.
An estimated 7 million blog posts are posted each day! Imagine how hard it will be to rank your blog among this big number.
That's where the market muse steps in.
It can analyze millions of articles, reveal gaps and opportunities, allowing you to craft high-quality content for your audience.
This keyword planner tool can suggest topics, develop briefs and even write the first draft that can help you connect with your audience and rank on the search engine.
PortraitFlip, a company that converts photos into handmade portraits, has been using Market Muse to create high-quality content that ranks on google.
With the help of this AI tool, PortraitFlip has scaled up its organic leads through blog posts and has generated a revenue of 6 crores since its inception in 2017.
Market Muse helped PortraitFlip analyze the content of top-ranking blogs and create more engaging content than their competitors.
Although this AI tool is a tad expensive, it is worth getting a membership if you wish to scale up your business.
3.Yext
Yext is an AI tool run by a technology company in New York City that operates in online brand management.
It is an AI tool designed to keep track of your business' location-related information on multiple directories.
It updates your NAP information (name, address, and phone number) and other details of your business like working hours, images, logo, reviews to 80 directories from a centralized location.
This lets the search engine identify your business as trustworthy and show it in search results for your services.
Yext also replaces inaccurate details of your company in the directories (if there are any).
This AI tool is also capable of identifying listing opportunities that can allow you to list your business info where no information previously existed.
4.Import.io
Import.io uses an AI tool that allows you to extract all web data including images, documents, content for any website.
You can extract the data even if it is hidden behind elements or login forms.
This is a great platform to analyze and monitor what your competitors are doing.
The extracted data from import.io can be visualized in the form of spreadsheets, bar diagrams, visualizations, and other machine learning algorithms.
This allows you to compare your business with competitors and point out the opportunities and areas where you need to improve.
It is basically a data scraping tool that converts a website into well-structured consumable data.
5.Sensei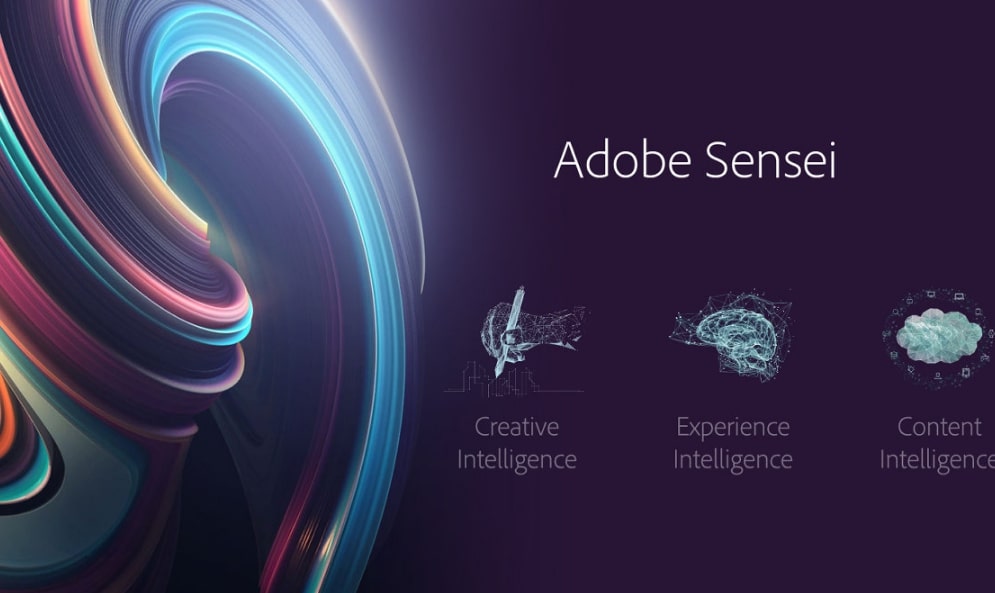 Sensei by the multinational software company Adobe is a great learning machine and an AI tool that can help you in many different aspects.
Be it data analytics, automation of marketing, creative needs, or other business-related tasks.
One of its prominent features is to give insights into your social media posts and guide you to create a strategy that increases reach and engagement.
To be precise, this AI tool is a social media expert that guides you toward big goals.
This tool is great if you're dependent on social media for your business.
6.Grammarly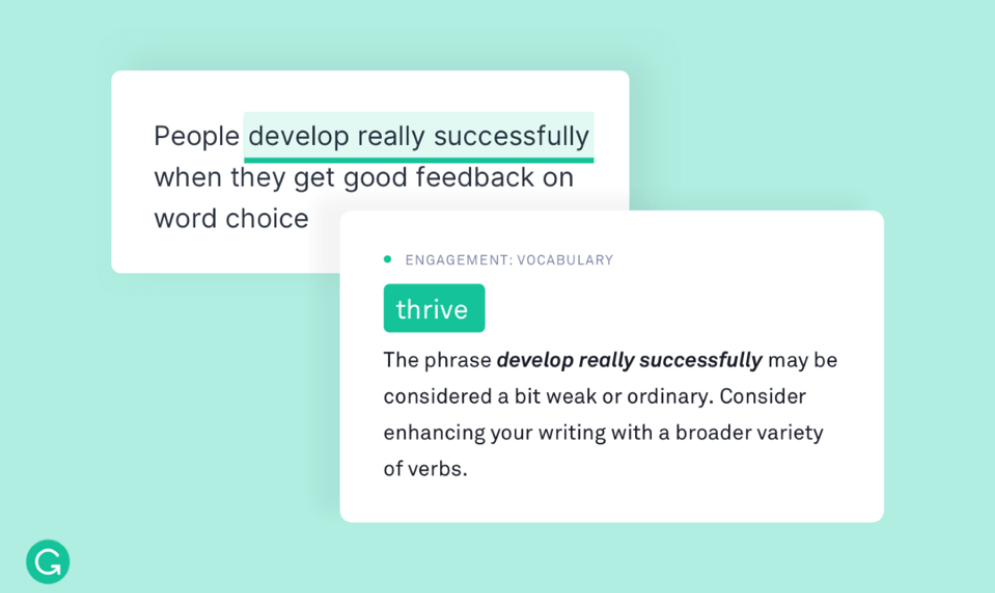 Unless you live under a rock (or maybe offline), you know what Grammarly is.
This simple and effective AI tool is great for everyone, especially writers.
Grammarly is a proofreading tool that copy-edits your work as you write and points out grammatical errors.
Interestingly, it also gives you suggestions to improve the syntax.
Now, what else does a writer need?
Grammarly can be integrated with browsers and various applications like MS Word. You can also get a Grammarly keyboard for your mobile phone.
Is it a great tool to avoid mistakes when you're creating content for blog posts or writing a formal email.
Grammarly is free and you can also get premium features with paid membership.
7.Cortex
Cortex is a social media marketing platform that uses AI tools to maximize your digital marketing ROI.
it works similar to the content analysis AI tool, but here's the main difference:
Cortex focuses more on social media analysis.
It analyses your competitor's social media efforts and helps you create a content strategy (and content) that is better than that of your competitors.
Smart, isn't it?
Cortex also analyzes your audience and suggests the best time to publish your post. You can also schedule your posts for publishing.
If your business hugely depends on social media campaigns, then this AI tool is something that you should definitely use.
8.GumGum
GumGum is a company that uses an innovative AI tool with several useful features for marketers.
One of its striking features is tackling issues related to advertisement placement on websites and other media.
The AI analyzes images and content of thousands of websites and lets you choose the spot where you want to place the advertisement.
Although Google Adsense allows you to target your audience, many times your ad may end up on an irrelevant website.
For example, Ad of your hairstyle studio ending up on a wig manufacturing company's website.
This is what GumGum helps you tackle. It will allow your ads to reach your desired audience.
The GumGum company also uses AI to utilize images and videos produced every day across the web, social media, and television to solve problems related to the media industry.
9. Chatfuel
Chatfuel is an awesome AI bot that can automate the chatting experience between you and your customers.
The AI bot can answer queries, recommend products, automate tasks, and save your time.
It is also capable of qualifying leads and performs other functions that benefit your business.
This AI tool can be connected to Facebook and Instagram. The main goal of Chatfuel is to automate all the convo with prospects or clients so that you can focus on your other tasks.
Chatfuel directs the conversation to you only when it's necessary.
When you use this AI tool, you'd be able to handle a large number of inbox messages without the need of hiring more chat representatives.
10.Cogito
Cogito – a magic wand for the sales and support team!
Cogito is a wonderful AI tool that analyses how a conversation is going in real-time.
It analyzes the tone of the customer's speech, predicts their emotion, and suggests what your team's response should be.
The purpose of analyzing is that the AI gives the benefit of EQ or Emotional Quotient to your team. So now your team will know when to listen and when to speak.
This leads to emphasizing with the prospects and generating leads.
Cogito is great to increase your brand loyalty, and in turn, increase customer satisfaction.
So don't miss out on this creative Artificial Intelligence technology.
11.LivePerson
Liveperson is an AI-powered conversational and messaging tool that is designed to understand customer's needs, increase conversions and reduce costs to your company.
This AI tool makes it easier for the prospects to reach out to you by creating a sales channel on the app that they are using.
This means that your prospect does not have to download or log in to another app (or your website) to message you.
Whether they are using WhatsApp or any other messaging app that they are comfortable with, LivePerson will allow them to directly connect with you.
This AI tool is great for easing the connectivity between your potential clients and you.
These are some of the best AI and machine learning-powered tools that can help you to manage and grow your business online.
Among them, I find Market Muse fascinating. It's amazing to see how an AI can create content that ranks on the search engine.
You can choose to get any tool that you think will be useful for your business. Go out and try!
If you have been using any of these AI tools, tell us about your experience in the comment section!