If you are looking for a way to combine PDF files or merge PDF tools, you have come to the right place. The finest PDF mergers combine files into a single document effortlessly.
People join multiple PDFs into a single file in many situations. For example, if you send many invoices to the accounting department, you undoubtedly want to keep them together.
Likewise, students need to combine multiple assignments and reports in order to deliver them to the professor.
You also need to join PDFs into one file when you have many web pages, and you want to combine them.
Whatever your purpose is, having the best PDF combiners can make the merging procedure easier for you. So what to do?
Fortunately, there are numerous free resources available to assist you. But using unreliable mergers can be time-consuming. Worry not!
A reliable PDF combiner or merge PDF tools allow you to compile two or more PDF files into a single PDF file.
This is typically done to make it easier to share or print several PDF files or store/archive PDFs containing similar content in a single document.
How cool it is!
Most importantly, it improves your workflow by saving time and effort. Rather than applying actions to each PDF, you can merge them into a single document and use the desired action only once.
Here is a complete guide to the eight finest PDF mergers for you.
1. Small PDF
Small PDF offers multiple options for dealing with document formats, signing PDFs, and saving files in addition to merging files.
Using this PDF binder, you can combine PDF and JPG files, Word documents, and Excel spreadsheets. It shows thumbnails of the files and allows you to drag and drop them to adjust their order effortlessly.
However, if you want to get rid of a few files, you can eliminate certain pages during the process. Then, you can download the results or save them to Dropbox or Google Drive when you are done.
You can sign or convert files into several formats in addition to mixing an endless number of documents. You can access it from the web or a browser extension. You can try this merge PDF tool out for 14 days for free.
2. Merge PDF
This is an entirely free PDF Merger. You can merge PDF files online regardless of their size or quantity. First, select all the desired files you want to merge and upload them. Finally, hit the "Merge files" button.
In addition, it has a very simple and user-friendly interface that makes it reliable. As a result, you can use it anytime and from any location to merge PDF files.
Furthermore, it is absolutely secure. It saves your data and protects your privacy. Combining PDFs is a straightforward procedure.
Avoid worrying about the quality of the content of the text. You can get the desired results on any desktop, mobile device, tablet, or Mac.
3. Adobe Acrobat Pro DC
Not only will Adobe Acrobat Pro Dc merge PDF tools allow you to split and combine PDF files, but it will also enable you to arrange the same document by extracting, rotating, arranging, inserting, and replacing pages.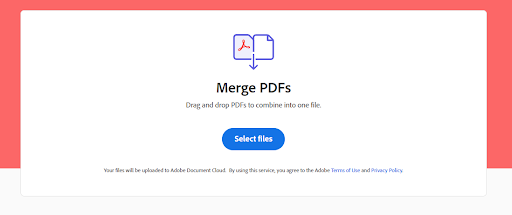 Surprisingly, you can combine any PDF file with no restrictions. Moreover, you can arrange the papers and pages to suit your needs with the handy drag-and-drop tool.
Large page thumbnails make it even easier to identify the pages this merge PDF tools add batch processing and high-quality output to provide you with complete control over the output while also simplifying the workflow.
4. Zone PDF
It allows you to convert files and rearrange the order of uploaded documents effortlessly. The results can be saved to a PC or stored in the cloud.
Additionally, you can generate, split, and edit files the same way as other PDF compilers do. If you want to combine two or more files, you must register yourself first.
5. PDF Resizer
PDF Resizer is a PDF joiner or Merge PDF tools that combine several documents into a single PDF file. With this PDF merge tool, you can say goodbye to slow, complex, and expensive software.
You can also rearrange the PDFs before pressing the merge button to match your preferred sequence. As a result, this PDF merger is also fairly light. Furthermore, the drag-and-drop option is also available on this binder.
6. Docu Pub
This simple merger may not have all the matchless features of its competitors, but it does a good job of making document merging simple and rapid.
You can upload PDF pap
multiple formats, including Microsoft Word, Excel, and PowerPoint.
Most significantly, it also includes free options for compressing, resizing, and scaling PDF files and converting documents and images to different file formats.
To begin, click the "Choose File" button on the right-hand side of the homepage and select the files you want to upload.
7. Hipdf
This is another online PDF compiler that might be relatively new but it covers more or less pretty much every desired feature that users usually want in a simple pdf merger tool.
With a simple and straight layout, you can very easily drag and drop or simply upload the desired files from your device. Files can be shared straight from your DropBox, OneDrive, and Box.
Apart from being cost-free, it also bears no compatibility issues. For those who usually work offline, its desktop version is recommended.
Just like most other PDF mergers online, the user simply uploads the desired file/s, clicks on the Merge PDF" and the merger does not take more than just a few seconds.
8. Foxyutils
Last but not least in our list today is again a relatively new yet very effective pdf merger tool online which is obviously free to have been placed in this user-friendly bunch of online tools.
The layout is as usual simple and easy to follow. User visits the website from any device or the browser of choice and right up front, there is the file upload section
You can upload files straight from your computer or whichever device you are using, in addition to that, files can also be uploaded from DropBox and Google Drive
The site covers a detailed demonstration of the entire merger process so that no confusion remains unaddressed. With an encrypted domain, the whole process remains pretty secure
For more advanced features, there is a paid version yet the basic merger of files can be done through the free version which sounds quite reasonable.
This entire list is created after detailed research for the convenience of common users. So, while looking forward to merging some of your office or even personal docs, all these handy tools might be a great option for sure.