Looking for the best power Banks, are you ready to get rid of your low-battery anxiety. Watching your phone or tablet steadily run out of juice when you're nowhere near a power outlet is stressful.
Today we are going to discuss some good Power Banks to keep your phone's battery juiced up on the go.
Power banks are small and compact, making them easy for you to hold around, while also holding enough power to charge your devices repeatedly over.
Power banks are basically regular batteries with some extra features, they work a bit like the other rechargeable batteries.
The first store energy up to their maximum capacity and then release it when connected to a different device that needs recharging.
Power banks are available in many various shapes and sizes to suit different budgets and power needs. In terms of shape, the most popular ones are cylindrical or rectangular, similar to a smartphone or a deck of playing cards.
There are portable chargers that will be used for almost every device. most of the people buy power banks to use them for cell phones, tablets, or laptops.
But some portable chargers can also be used for devices such as drones, mini-fridges, or even CPAP machines.
Generally speaking, the bigger the battery, the higher the capacity and quantity of ports you get. Another factor to consider is how quickly a power bank can charge your phone.
Now, with all that in mind, we've rounded up some of our favorite power banks you can buy right now. You can't go wrong with any of them, so pick the one that fits your budget and needs.
Also Read:
10 Best Power Banks
1. Anker PowerCore+ 26800PD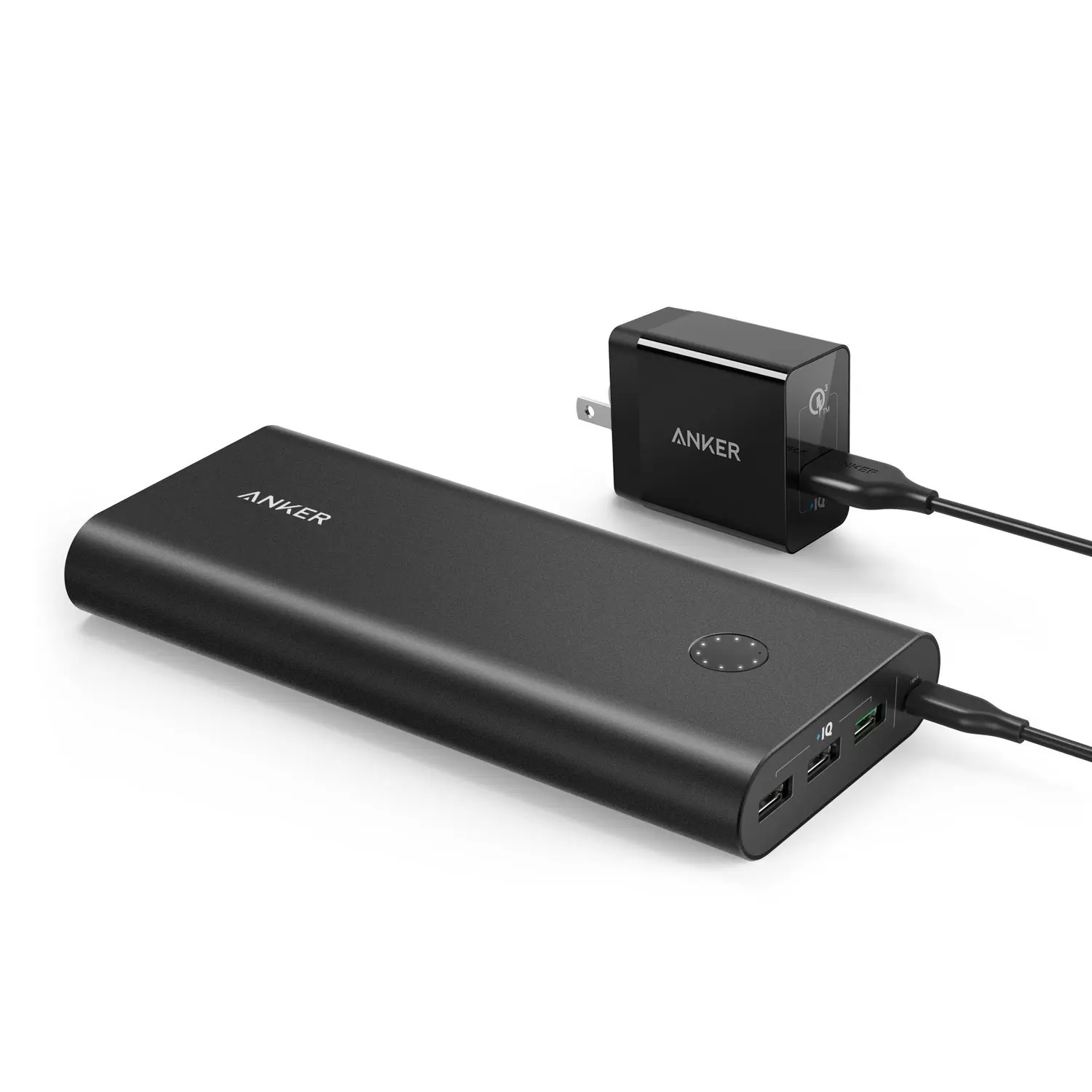 Anker's all-out PowerCore+ 26800 PD adds a USB-C port to the list, letting you charge your notebook as well as your phone and tablet thanks to 26,800mAh of power. That's a huge boon for Macbook, Surface, and Chromebook users.
Between its capacity, recharge time, charging capabilities, USB-C, and therefore the wide selection of devices it can charge, the Anker Powercore+ 26800 PD is well worth its price
Yes, it's big and bulky. But being able to quickly top off your phone while trekking through The Legend of Zelda: Breath of the Wild on the Nintendo Switch simultaneously is worth the added weight and the price.
2. Anker PowerCore 20100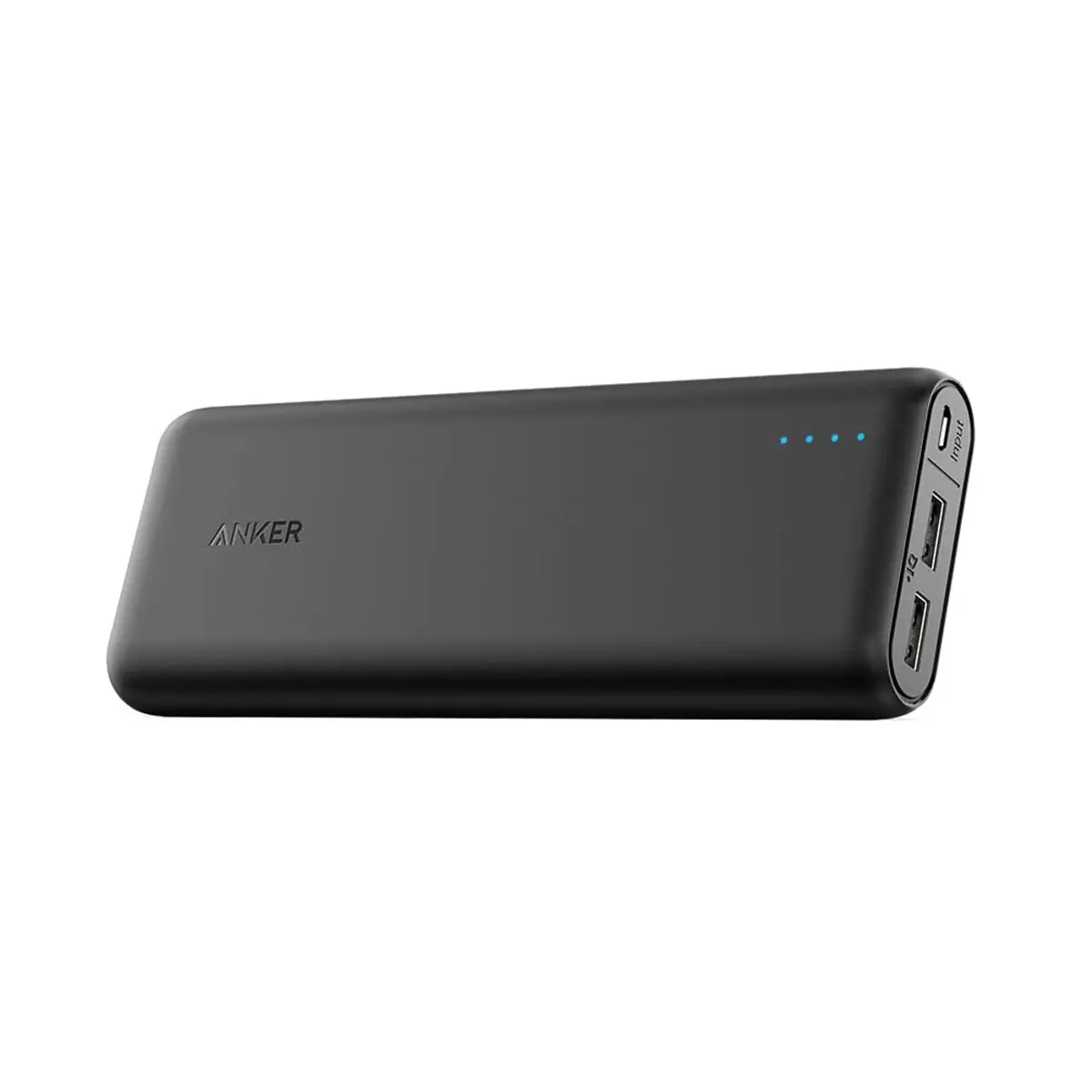 The Anker PowerCore 20100 has a ridiculously large capacity that can charge the iPhone 11 around 7 times, the Galaxy S10 around 5 times.
And like most Anker Power banks, the PowerCore 20100 provides super-fast charging. Within this model, their two proprietary technologies PowerIQ and VoltageBoost combine to deliver the fast charging possible.
The device can recharge itself in 10 hours with the 24 Watts charger. Now that's quick! When it comes to safety the PowerCore 20100 has it covered.
The device has Anker's coveted MultiProtect Safety System built right in which means surge protection, short circuit protection along with countless other safety features that ensure your device is completely safe.
3. MAXOAK 50,000mAh Power Bank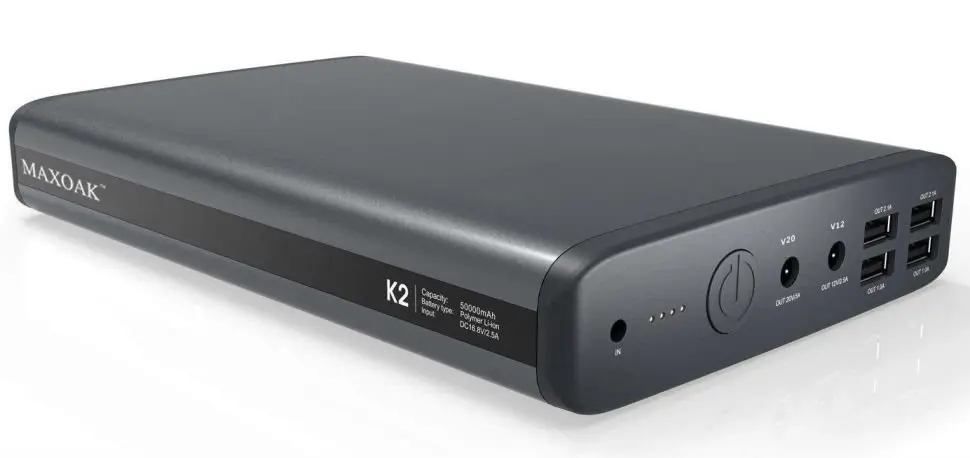 With an astounding six ports, the MAXOAK 50,000mAh Power Bank is one of the best portable chargers if you're on a trip with a bunch of colleagues, whom all need their phones and tablets charging immediately (or you just have a lot of devices you wish to charge yourself
And with a whopping 50,000mAh battery capacity, you're certainly getting to have enough power to try to so, even multiple times.
Sadly, you can't use it to charge your MacBook, but there are plenty of laptops that are compatible with Fujitsu, Sony, Acer, Asus, IBM, Dell, HP, NEC, Samsung, and Lenovo.
4. iMuto 30,000mAh Power Bank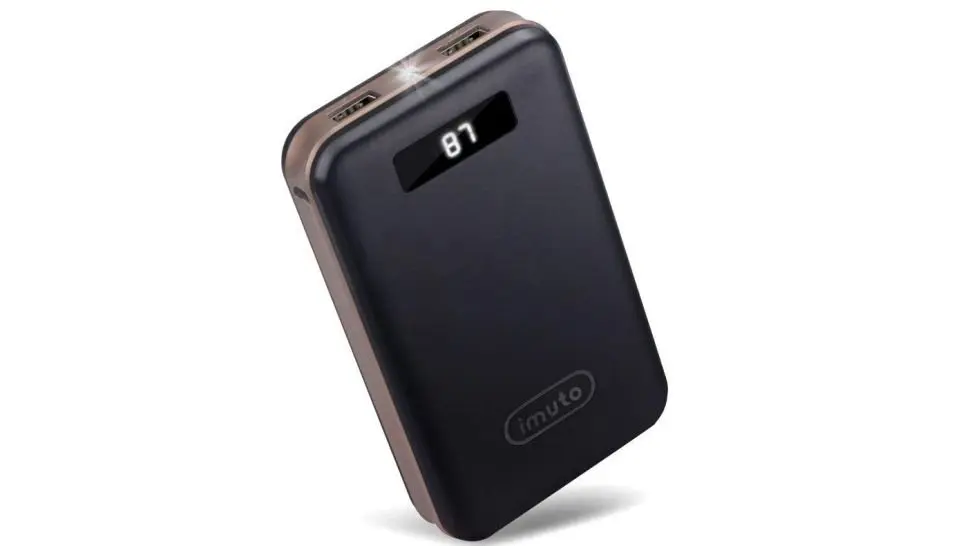 The iMuto Ultra High Capacity portable charger is one of the very best capacity compact chargers on the market.
Its huge 30,000mAh capacity means it can charge an average smartphone over four times without needing to be plugged in.
It's also got enough power to charge up compatible MacBooks and laptops, and along with a very reasonable price, makes it one of the best power banks for designers and creatives.
5.RAVPower 26800mAh Power Bank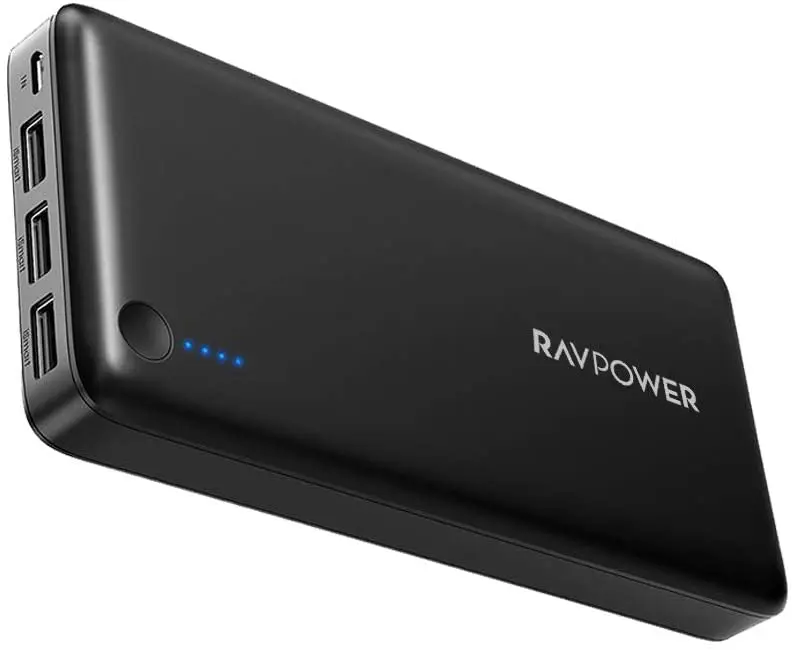 This power bank is efficient enough to give a full 9 days charge for those who need a constant power supply. Of a surety, this creates satisfaction for those in the category of having devices that cannot afford to have flat batteries.
This also provides convenience at its best, due to the fact that in just a quick charge, your device is up and running with more than enough remnant power for several charges.
With triple charging outlets, there is no room for delay in charging, as multiple devices can tap into the enormous power reservoir and get connected no matter the time.
The availability of a total of 5.5A output ensures there is no delay in the charging process, as this device whoops up a high level of charging speed.
What's more, the RAVPower Titan Power 26800mAh Power Bank also features a DC 5V/2A input, meaning recharging this power bank is a breeze of convenience, requiring just a small amount of time in order to get this power bank on the move.
6. Anker PowerCore 10000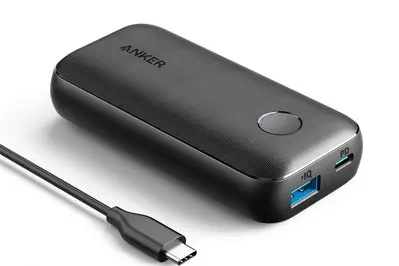 One of the more-compact Power Banks chargers is PowerCore 10000. It packs enough juice to recharge two whole phones, and then some.
It may not have charged our phones as fast as its big brother, (the 20100-mAh Anker PowerCore 20100), but the 10000's lower price makes the slower speed easier to handle.
Plus, in addition to a USB-A output port, it has a USB-C Power Delivery (PD) port that enables charging (both input and output) up to 18 watts—nearly twice as fast as most power banks we've found with built-in cables.
This means less time waiting around for your phone, tablet, or another device (and the power bank itself) to charge.
Its combination of portability and mAh capacity makes it the simplest portable charger that you simply don't need an enormous pocket or a little bag to hold.
7. Omni Mobile 12,800 mAh
I prefer having a power bank I can use with all of my gear, and it doesn't get more adaptable than a power bank that supports QuickCharge 3.0, 10W Qi wireless, and 45W Power Delivery charging.
The Omni Mobile series has a few fun sizes, but the 12,800mAh model is the perfect blend of portability and compatibility.
The 12,800mAh capacity could recharge your phone three to four times, but once you hook it up to your Chromebook or laptop.
It'll go pretty quickly, so I like to think of it as a power bank for phones that can pull double duty for your laptop in a pinch.
The Qi pad on top tends to be a bit fickle at times when it comes to placement, so line it up on a stable surface and leave it be.
8. Aukey 10,000mAh Battery Pack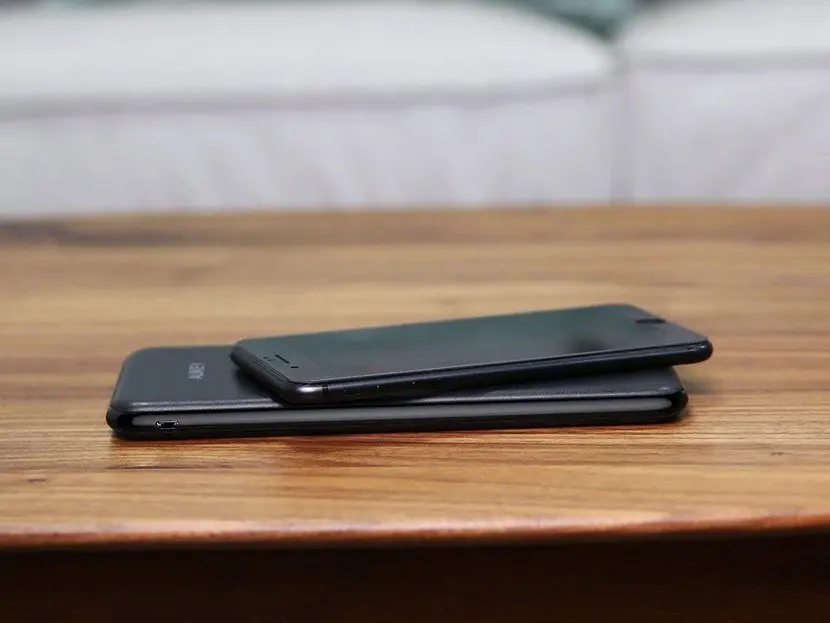 Aukey's pack is greater than Anker's on paper, but I've greatly preferred phone-shaped power banks because with these sorts of banks you'll easily tell where it'll and won't fit.
if your phone will fit there, this battery pack will fit there. This philosophy is especially helpful when you're charging with the bank and your phone in a single pocket together, as two flat narrow slabs fit better in a pocket together than one flat piece and one stout pillar.
This bank sports two USB-A ports to the Anker's one and one of those two ports is a QC 3.0 port, which is great news for Samsung owners and those with older phones that may need a power bank to get through the day.
The second USB-A port is a more standard 5V 2.4A, while the USB-C port is 18W Power Delivery.
9.RAVPower Luster portable charger
The RAVPower Luster portable charger could also be super-cheap, but it still offers a wonderfully decent capacity of 6,700mAh, which is certainly enough to power up your smartphone from zero to one hundred percent at least once, and probably double.
This power bank is fairly light (about an equivalent weight as your average mobile phone), will fit in most pockets nicely, and is compatible with a good range of devices.
In short, it's an excellent choice for a night or a weekend away during which you don't expect to be using your devices mega-intensively.
Also, if you find it difficult to find a small black device amongst all your other small, black devices, then this colorful portable charger has the benefit of being easy to spot.
10. Mophie Powerstation XXL
At first glance, the Mophie Powerstation XXL may be a by-the-numbers portable battery. There are two regular USB ports and a USB-C port for input and output. The port selection isn't varied, but a minimum of the USB-C port can output at 15W.
Where the Powerstation XXL differs from the competition is in material choice. The fabric material on the top and bottom is soft to the touch, even if you might need to clean it from time to time. 20,000mAh power banks
At around $61, the Powerstation XXL is a bit more expensive than a few other options. However, it's a straightforward portable battery that doesn't try to be more than that. For some people, that's enough.